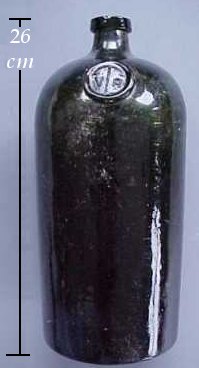 #601015:
Description: Black glass lime juice bottle with VR and an anchor on the seal, found in the Caribbean, circa 1860.
Diameter: 11.3 cm.
Height: 26.0 cm. Seal diameter 3.3 cm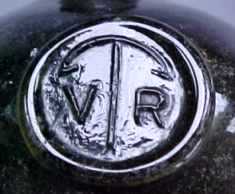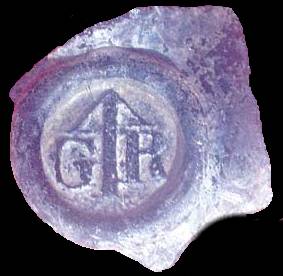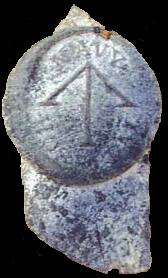 "Navy Hospital"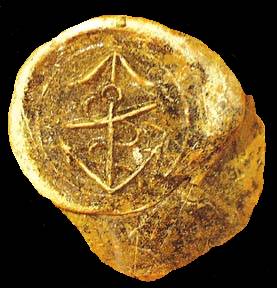 These three seals were all found in during salvage archaeology near the British Naval Hospital, English Harbour, on the island of Antigua. Started in 1725, English Harbor would become the most important British Naval facility in the entire Caribbean Sea, reaching its zenith during the Napoleonic Wars that ended in 1815.
"Most all the seals in this museum were discovered on June 6, 1980, when a bulldozer was preparing a private house site overlooking English Harbour, under the brow of Hospital Hill. To clear the bush, a layer of approximately 20 feet of soil was removed exposing a few artifacts. A car turnaround was then cut in the side of the hill nearby, exposing more refuse. Archaeological Society members managed to persuade the bulldozing to stop for a day, in order to allow as many artifacts as possible to be recovered. Unfortunately there are no antiquity laws in Antigua, so the site was destroyed the next day, without proper scientific investigation."
Desmond Nicholson, curator of the museum at Nelson's Dockyard explains. "The letters 'G.R.' stand for 'Georgius Rex', or King George, III of England, (1760 - 1820), and the anchor denotes government property." At that time the broad arrow mark was known by the working class as the 'devil's claw', and could convict anyone found in possession without good cause.
Thanks to Antique Bottle and Glass Collector Magazine and their web article "Antigua an Island with a Past-Found in Antigua Bottles" http://glswrk-auction.com/106.htm for the photos and above information.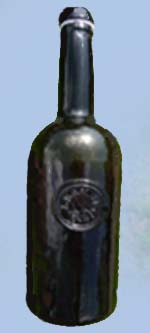 The following was provided by Mark Nightingale at earlyglass.com. This is a rare example of a half size bottle bearing a seal to the mid body with the name J. Baikie and initials RN (Royal Navy). The bottle is black glass with a deep conical kickup and a rough sand pontil, whittled straight sides, to horizontal mold line, round shoulders to long narrow neck through conjoined double downtooled applied stringrim and lip. Height: 9 1/4" (23.5 cm) Diameter: 2 5/8" (6.7 cm)
Captain John Baikie Royal Navy was father of the famous William Balfour Baikie, the Scottish adventurer. It seems obvious Captain Baikie had personally paid to have these bottles bearing his name along with the R.N. The most likely made up his personal supply on board the ship. To date I know of no other of examples like this.